2nd PCNS Symposium 10-13th September 2019, Bucharest, Romania
event location: Library of University Politehnica Bucharest, Splaiul Independeței, 313, București 060042, Romania
PCNS 2019 Visitor Statistics
63 attendees from 13 countries
85% EU, 10% USA, 5% Asia
55% manufacturers, 33% academia, 15% end users
automotive, medical and space industry presence
PCNS 2019 Top Rated Programme Items
Gala Dinner
Hot Panel Discussion
Best Paper: 5.1 A.Teverovsky: Degradation of ESR …
Outstanding Paper 1.2. S.Krause: Integrated capacitors…
Best Keynote: R.Demcko: Keys to enabling advanced designs…
Outstanding paper: 2.2 M.Manofu: Analysis of MLCC…
PCNS 2019 PROGRAMME at a Glance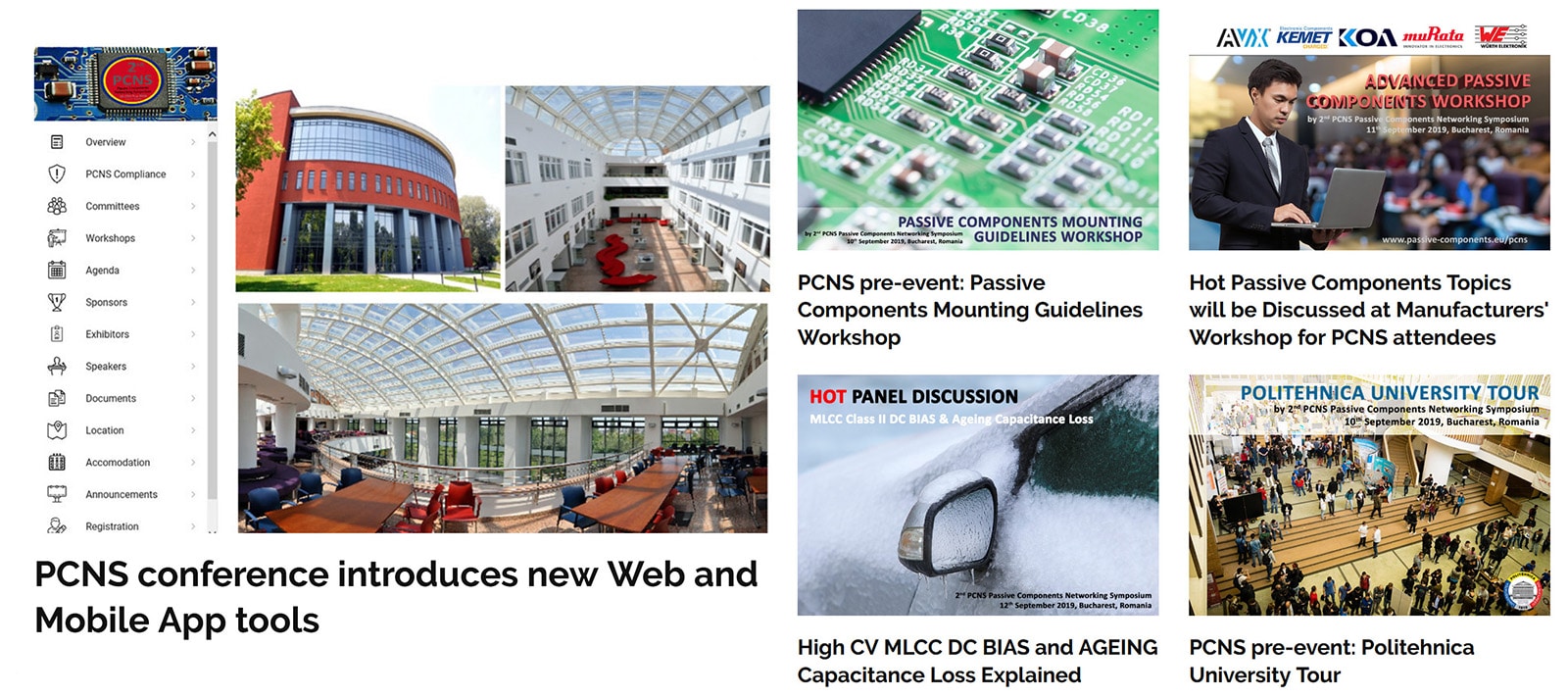 Keynote Presentations:
Keynote 1: Passive Components – Keys to enabling Advanced Future System Designs; Ron Demcko; Technical Sales Group Manager; AVX fellow
Keynote 2: Design Challenges of Capacitors – What about downsizing, robustness and energy density for future applications?; Stephan Menzel; Product Development Manager Capacitors; Würth Elektronik eiSos
Keynote 3: Shortage of Products – Market Mechanisms and How to avoid Fake-Products; Rüdiger Scheel; VP Automotive, Murata Electronics Europe
Keynote 4: Passive Electronic Components Education in Romania – Facts and Achievements in the last 30 years; Paul Svasta, Emeritus Professor; Politehnica University of Bucharest
HOT TOPIC Panel Discussion:
MLCC Class II DC BIAS Ageing Capacitance Loss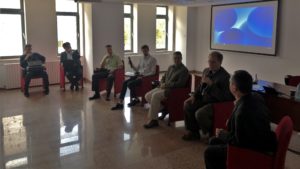 Left to right: Paul Le Nezet Würth Elektronik; Yuki Nagoshi Murata Electronics Europe; Ladislav Vindiš Continental Automotive GmbH; Benjamin Blume Samsung Electro-Mechanics; Wilson Hayworth Kemet Electronics; Ron Demcko AVX Corporation; Tomas Zednicek EPCI
Technical Papers:
1. NEW DEVELOPMENT
1.1. A Disruptive Nano-laminate Polymer Capacitor Technology for Electric Drive Applications; Angelo Yializis; POlyCharge America Inc; United States
1.2. Integrated and discrete capacitors based on carbon nanostructures with capacitance densities in excess of 350 nF/mm2; Sascha Krause; Smoltek AB; Sweden
1.3. Advances in Film Resistor Technology; Stephen Oxley; TT Electronics; United Kingdom
2. TECHNOLOGY & ROADMAPS
2.1. Energy Harvesting is not Fiction anymore; Lorandt Fölkel; Würth Elektronik eiSos; Germany
2.2. Analysis of Multi-Layer Ceramic Capacitors used in Power Distribution Networks; Marcel Manofu; Continental; Romania
2.3. Guidelines How to Downsize MLCCs Efficiently; Yuki Nagoshi; Murata; Germany
2.4. Capacitor Trends and Challenges; M. Barta and T.Zednicek; TTI Germany and EPCI Czech Rep.
3. QUALITY & RELIABILITY
3.1. COTS procurement for space mission; Denis Lacombe; ESA ESTEC; Netherlands
3.2. Most Reliable, Most Efficient and Price Effective Solid Tantalum Capacitors; Yuri Freeman and Ed Jones; Kemet; United States
3.3. Real Environment Aluminium Electrolytic Capacitor LifeTime Evaluation and Modelling; Luca Primavesi; ItelCond and Univeristy of Milano; Italy
3.4. Supercapacitor Degradation and Life-time; Vlasta Sedláková; Brno University of Technology; Czech Republic
4. MATERIALS & PROCESSES
4.1. High Bs ferrite material development for high power applications; JC Sun;Bs&T Frankfurt am Main GmbH; Germany
4.2. High efficient new Hybrid magnetic EMI filter design for Low Voltage DC distribution; Wai Keung Mo and Thomas Ebel; Centre for Industrial Electronics, University of Southern Denmark
4.3. Conductive hybrid threads and their applications; Tomas Blecha; University of West Bohemia; Czech Republic
4.4. Tin Whisker or not Whisker; Jean Edmond Le Calvé; Valeo; France
4.5. Stable and reliable tantalum supply chain; Roland Chavasse; T.I.C.; Belgium
5. MEASUREMENT & TEST
5.1. Degradation of Polymer Tantalum Capacitors during High Temperature Storage; Alexander Teverovsky; NASA/GSFC; United States
5.2. Investigation and Experimental Comparison of Magnetic Core Loss for High-Saturation Ferrite Material; Chang Wang; TU of Denmark;Denmark
5.3. Evaluation of Active Balancing Circuits for Supercapacitors; Ciprian Ionescu; Politehnica University of Bucharest, Romania