AVX is a leading international manufacturer and supplier of a vast portfolio of advanced electronic components, including: capacitors, inductors, filters, resistors, couplers, diodes, and circuit protection devices, as well as a broad range of innovative sensor, control, interconnect and antenna solutions. With 33 research, design, manufacturing, and customer support facilities in 16 countries around the world, AVX offers significant competitive advantages, including delivery and production capabilities optimized to suit each individual customer's just-in-time inventory requirements, and global engineering teams experienced in developing new-to-market product solutions especially designed to fulfill customer's unique application requirements.
AVX has successfully served the automotive, industrial, medical, military, consumer electronics, communications, and transportation markets for nearly 50 years. In the automotive sector, AVX actively contributes to the development of new safety, engine control, infotainment, and chassis control technologies. In the medical sector, advanced AVX products provide critical support for a wide range of implantable, life-supporting, treatment, imaging, and diagnostic devices, including pacemakers that regulate patients' heartbeats, cochlear implants that provide audio input for the hearing-impaired, and diagnostic equipment that helps medical professionals identify and cure patients' ailments. In the communications sector, our accomplished research and development (R&D) teams regularly anticipate needs and adapt and innovate products to support the explosive growth of next-generation technologies spanning smartphones and tablets to networks and datacenters.
Backed by decades of in-depth R&D, AVX products also provide critical enabling support for a wide variety of green technologies designed to conserve existing energy resources and create dependable, affordable electronic systems capable of effectively harnessing renewable energy sources, such as wind, solar, and hydroelectric power. High-reliability AVX components are at the forefront of countless products that are helping to ensure that both this generation and generations to come will benefit from cleaner, greener technologies designed to preserve and protect the environment, ranging from clean power generation and conversion systems to hybrid and electric vehicles in the personal and commercial vehicle and mass transportation markets, including cars, trucks, trams, and trains.
AVX has an abundance of patents, continues to invest heavily in R&D, and submits several new patent applications every year to further expand the company's strong technology base with newly innovated, next-generation product solutions.
AVX is also committed to consistently exceeding customer expectations, and continuously satisfies that goal through the successful implementation of the company's corporate mission and vision statements.
Global Advanced Metals, the world's leading supplier of tantalum products, supplies high performance tantalum capacitor grade powder enabling smaller, more powerful, and high reliability tantalum capacitors.
We are committed to the responsible supply of tantalum in all its forms and operate to high standards of sustainable supply and development. We also manufacture niobium metal products and supply tin.
Our tantalum operations are vertically integrated from the mining and processing of ore into concentrates, through to the manufacturing of powder and metallurgical products for use in electronic components such as capacitors and semiconductors, additive manufacturing applications such as medical implants, and for other critical applications including aerospace and defense industries.
Our high quality tantalum products enable more powerful electronic devices, greater safety and reliability in automobiles and greater fuel efficiency and longevity of aircraft engines.
Itelcond s.r.l. has been recognized as a leading local SME manufacturer of aluminum electrolytic capacitors for wide range of industrial, transportation, medical and other applications
The production lines have been continuously devoted to the manufacture of large can units, with screw terminals for fitting in many different electronic equipments, with brackets or with mounting stud.
During last years this type of capacitors (once called 'computer grade units') widened its usage in many fields as power supply: UPS, welding and magnetizing machines, equipments for railway applications
With over 100 years of technological innovation, we help make a wide variety of products possible in the world's most rapidly expanding industries. Our components are found in spacecrafts and defibrillators – from outer space to inside our bodies, and in products we use every day. We have the broadest selection of capacitor technologies in the industry, including an expanding range of electromechanical devices and electromagnetic compatibility solutions.
Holding more than 1,600 patents and trademarks worldwide, we have established a leading position for our products via our advanced R&D, technical staff and design-in capabilities. We are dedicated to research and materials science with innovation centers around the globe. Our quality objective is zero defects. We provide unparalleled customer service, with 100% on-time delivery and ship over 50 billion components per year to 180,000 customers around the world. We are easy to design in and easy to buy from. With global manufacturing facilities, international sales offices, and a broad distribution network, we are close to you and where you are.
Sustainability is a large part of our culture and we conduct business in a sustainable way, demonstrating our commitment towards the environment, our employees, and the communities where we operate. We are a trusted provider for the transportation, medical, defense, aerospace, industrial, communications, and consumer product industries. All around the world, in all types of products, we are built into tomorrow.
On June 15, 2020, KEMET was acquired by Yageo Corporation (TAIEX: 2327).  The combined organization will be a powerhouse of electronic passive components with a leading product portfolio of polymer, tantalum, ceramic, film and electrolytic capacitors, chip resistors, circuit protection as well as magnetics, sensors, actuators and inductors all addressing a full range of end markets. Additionally, the company will have an enhanced global footprint and will be better able to partner with long-standing, blue chip customers worldwide.
SRT-Microcéramique is a French manufacturer of MLCCs and has been active on the market for more than 30 years. Always striving to satisfy our clients, our first goal is to provide MLCCs and Electromagnetic Filters in short lead times for any type of applications, even the most severe and demanding.  
Our Philosophy
We're a quality-driven company. We follow and respect a strict process of qualifications and internal monitoring to always ensure the highest reliability to our customers. Therefore, we are notably involved in severe environment applications such as high power, high voltage, high frequency and high temperature.
Our technological and industrial capabilities allow us to design custom components to best answer specific requests from our clients. We also have a no obsolescence policy to facilitate electronic designs.
We believe in a culture of trust, service, and open communication.
Our Markets
Our components can be found in severe domains such as medical, aeronautics, defense, industry and energy. We know how crucial it is for our partners in such sectors to find high quality components in short lead times, and we are here to guarantee that such needs are met.
Würth Elektronik eiSos Group is a manufacturer of electronic and electromechanical components for the electronics industry and a technology company that spearheads pioneering electronic solutions. Würth Elektronik eiSos is one of the largest European manufacturers of passive components and is active in 50 countries. Production sites in Europe, Asia and North America supply a growing number of customers worldwide.
The product range includes EMC components, inductors, transformers, RF components, varistors, capacitors, resistors, quartz crystals, oscillators, power modules, Wireless Power Transfer, LEDs, sensors, connectors, power supply elements, switches, push-buttons, connection technology, fuse holders and solutions for wireless data transmission.
The unrivaled service orientation of the company is characterized by the availability of all catalog components from stock without minimum order quantity, free samples and extensive support through technical sales staff and selection tools.
Through its technology partnership with the Audi Sport ABT Schaeffler Formula E Team and its support for the Formula Student racing series, the company demonstrates its innovative strength in eMobility
(www.we-speed-up-the-future.com).
Würth Elektronik is part of the Würth Group, the world market leader for assembly and fastening technology. The company employs 7,300 staff and generated sales of 823 million euros in 2020.
Würth Elektronik: more than you expect!
Further information at www.we-online.com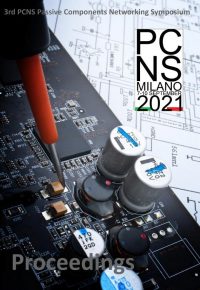 Mission
To represent and promote the common interests of the Passive Components Manufacturers active in Europe to ensure an open and transparent market for Passive Components in Europe as part of the global market place.
Passive Components are an independent and thriving industry
Passive component manufacturers play a key role in the development of the electronics industry and more globally in the development of the e-society in Europe and the rest of the world. Every new function, every new semiconductor, generates new requirements in volume and performance for passive components. Supported by several large companies, a great number of SMEs (small and medium-sized enterprises), national associations and technological research institutes, the passive component industry has accumulated a considerable competence and know-how over the years. Electronic systems and equipment, as well as electronic components, are undergoing crucial changes. Increasing performance and miniaturisation are becoming standard requirements. European industry has been able to face up to these challenges successfully.